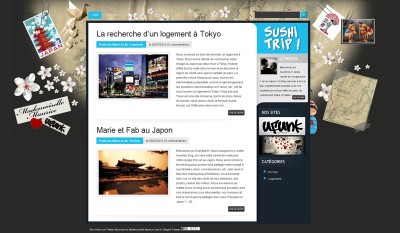 The first september, 2010, Mademoiselle Maurice and Ufunk leave France to visit Japan for one year.
The "sushitrip.fr" blog (only in french) speak about all our adventures, discovers and sensations with pictures and words. Before all, for our families and friends, and to avoid infinite mailing list. You can share with us this road trip in "adventurer mode". We would like to discover all the country, the 4 islands, the most important cities and the campaign.
The first 2 months are for Tokyo. Between Tokyo and Kyoto, Mademoiselle Maurice will search location to expose, improvisationally and thanks to some contacts. Wish me luck! And see you soon on our blog!
(Blog created by Fabien Bouchard, background: Mademoiselle Maurice)