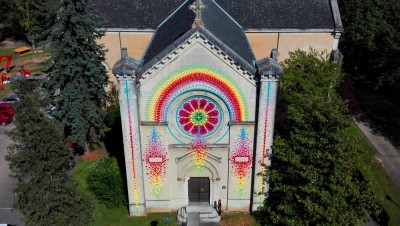 Project realized in Bourg-en-Bresse, in France, at the psychothérapique center of Ain, with Culture NoMad.
Project of collective creation on severals months, with meetings, workshop and installation.
Origami folded by patient, medical stuffs and people from outside.
Installation realized by Mademoiselle Maurice in 2016, May.
A big thank you to the center and especially to Agnès and Franceline who built the project!
NB: installation without any relation with religion, just about put colors on a building of the center and makes links between patients and "outside" and show the potential of everyone. It's just about to be mad or not, to be in this world or another one, its about being human…